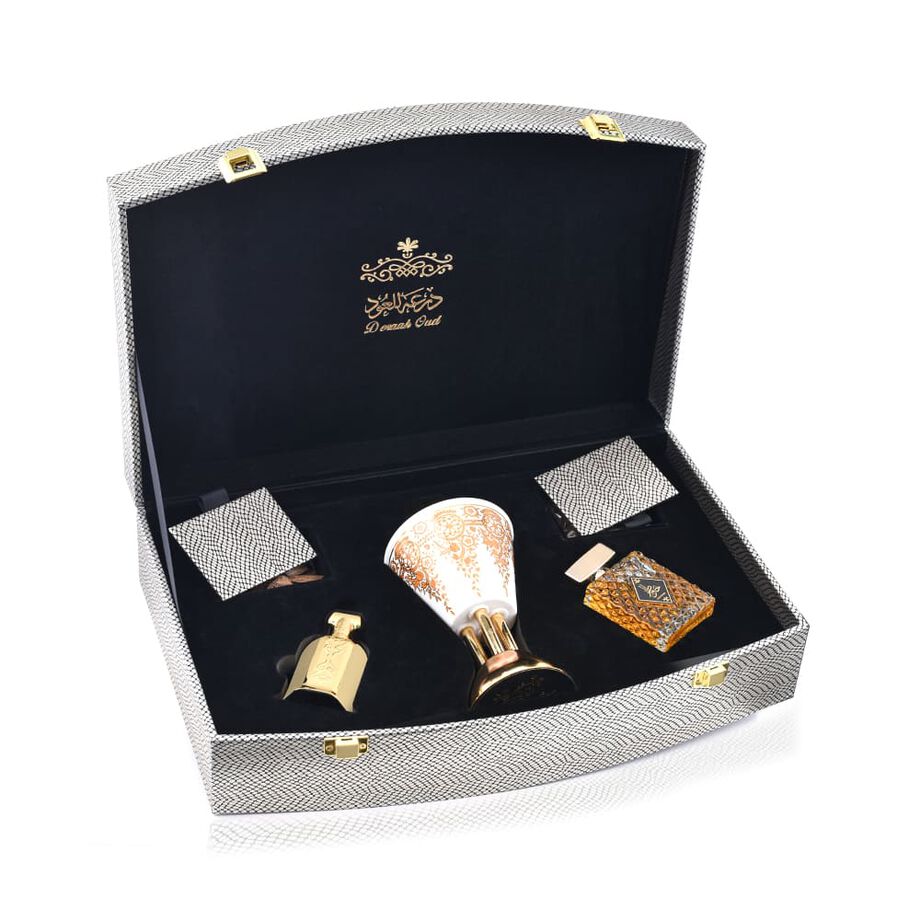 Large colored leather Khawater set
380 SAR
Price reduced from

760 SAR

to
OFF 50.00%
(including VAT)
The authentic Oud... a perfect gift Gift your loved ones and perfume your evenings with the fragrant aroma of royal Oud, extracted from the finest types of luxurious Oud, exclusively made for the distinguished Khawater Collection set. Essence of originality and sophistication Deraah Oud presents you with the perfect gift that unites originality and sophistication in an elegant leather box and a collection of the finest distinctive blends of Oud, selected floral fragrances, touches of sandalwood, musk, in addition to Mabthouth and Maamoul, made from the finest luxurious Oud.
Khawater Perfume 100ml: A luxurious French perfume that combines notes of caramel, citrus, freesia flowers, heliotrope, and jasmine, with a base of amber, musk, and sandalwood.

- Khawater Aromatic Mukhallat 12 ml

- Ounce of Marouki Oud wood, which is considered one of the finest types of Indonesian Oud and is distinguished by its thick smoke that lasts for a long time.

- An ounce of Kalimantan wood, which is distinguished by its pleasant scent that fills the air and gives your evenings a touch of originality and luxury.

- A luxurious censer with a modern design made of white ceramic with golden decorations and a base of golden metal.
in a luxurious and elegant box, perfect for gifting to your loved ones.

Brand: Deraah Oud
Price: 760 SAR
Gender: Unisex
Product type: Leather set
Activity: Oud sets
Detailed activity: leather set
Group name: Khawater

Tips for using Large colored leather Khawater set:
- It is recommended to place the Marouki and Kalimantan Oud chips from Deraah Oud on well-burnt, unscented natural or synthetic charcoal. It is not recommended to use electric censers
- It is recommended to use the perfume and oil at pulse points on the wrist and neck and on the clothes. Suitable for all times.