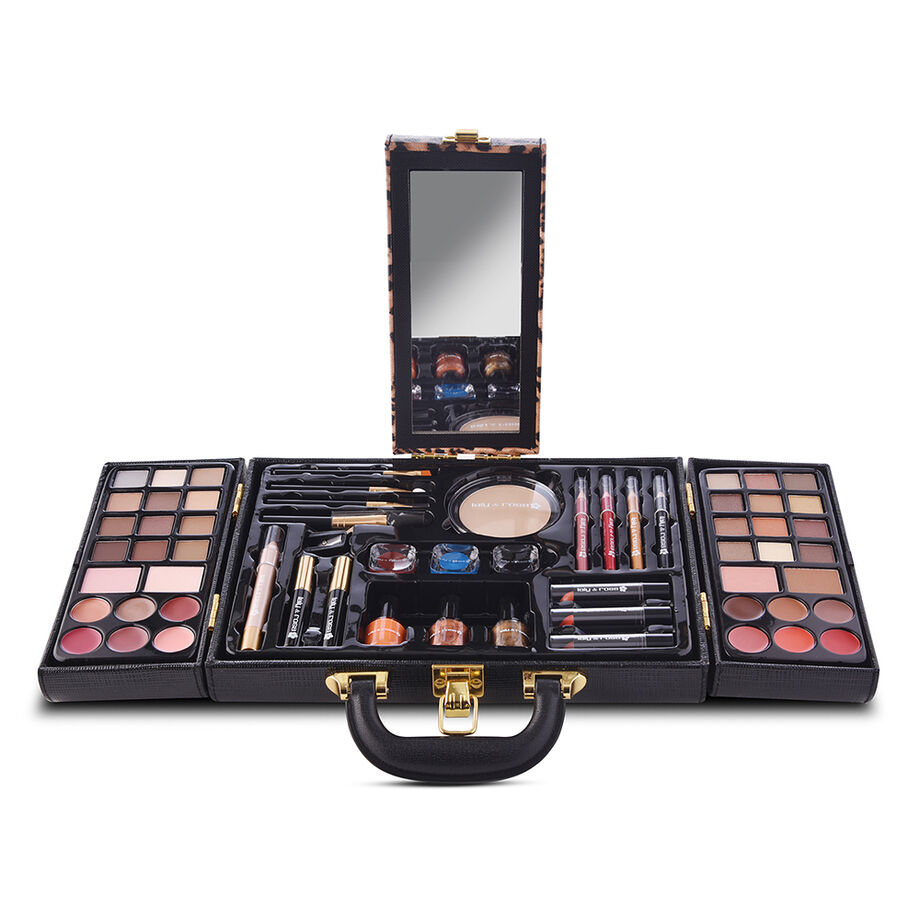 163 SAR
Price reduced from

326 SAR

to
(including VAT)
Laly and Rosa Kit C303 Description: Trust Laly and Rosa Kit C303 on any occasion. Your ultimate beauty solution available at Deraah store. This all-in-one kit contains everything you've ever dreamed of, from eye shadows and blushes to foundation powder, mascara, eyeliners, lipsticks, and liners, plus other tools to enhance your eyes and lips. Our unique and vibrant color palette features shades inspired by the full spectrum of the sun, with luxurious rose, velvet, and blue hues that add a touch of elegance and beauty to your face.
Laly and Rosa Kit C303 Specifications:
Brand: Laly and Rosa
Type of product: Makeup Kit
Contents: 24 eye shadows - 4 blushes - 1 face powder - 1 concealer - 2 lip liner - 1 primer - 3 lipsticks - 12 creamy lipsticks - 3 nail polishes - 1 mascara - 1 liquid eyeliner - 3 gel eyeliners - 4 brushes
Activity: Ready-made Makeup Kit
Kit name: Makeup Kit
Color: Multiple
Section: Cosmetics
Gender: Female
Size: Net Wt. 106
Material: Cream and liquids
Laly and Rosa Kit contains:
Eye shadows in neutral and calm colors for modern and sophisticated eye look.
- Black liquid eyeliner
-Eyeliner pencil to define and highlight the eye.
- Color corrections to correct pigmentation, redness, dark circles, and blemishes.
- Shimmering powder for stunning look.
- Nail polishes perfectly coordinated with colors for lips and eyes.
- Multi-use brushes to easily apply your makeup.
How to use:
Foundation cream is applied to give your skin a clear complexion free from impurities. Follow up with concealer to hide any dark circles or pigmentation, and create a perfect canvas for your eye makeup. Then, define your lips with our lip liner and add a pop of color with our creamy and luxurious lipsticks. Finally, finish off your look with our glossy powder for a luminous and radiant touch.
Warnings and Precautions (optional):
Keep in a cool, dry place out of direct sunlight and away from heat sources.

Touch of Beauty:
With just one touch from Laly and Rosa Kit C303, you will stand out from the crowd.
Latest Fashion:
Stay on top of the latest beauty trends with the makeup contents of Laly and Rosa Kit C303 from Deraah store.
Your Makeup like professionals:
Apply your makeup like professionals using Laly and Rosa Kit C303 with its unique assortment of makeup contents.