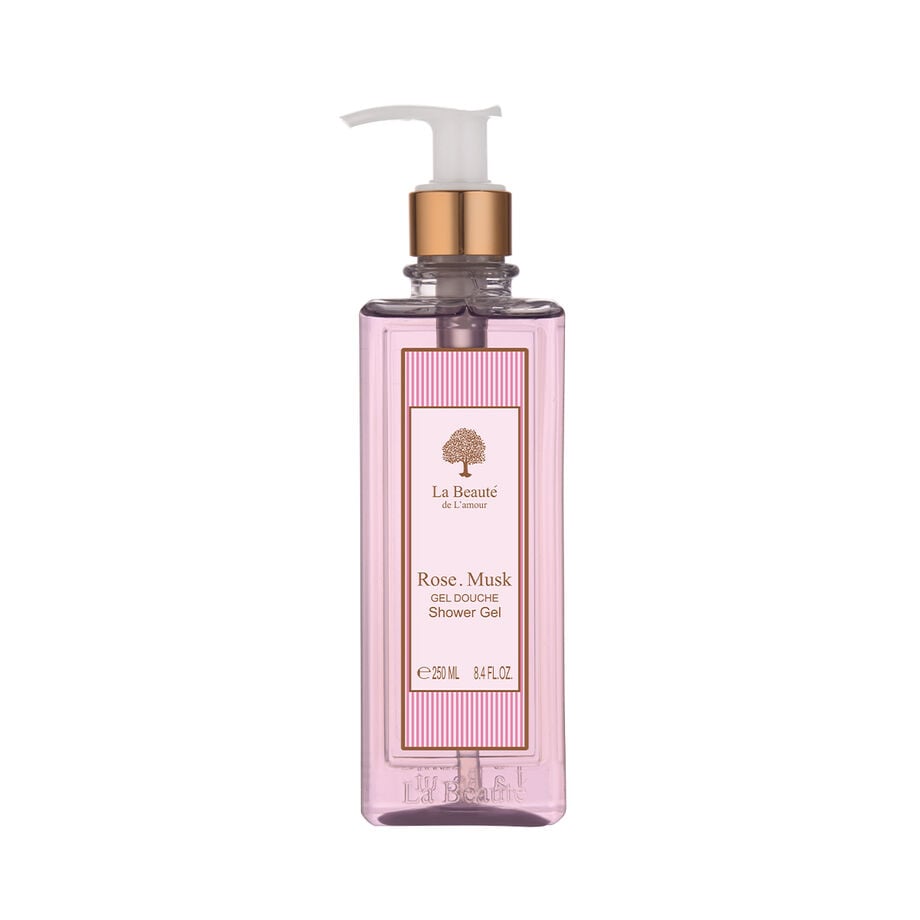 46 SAR
Price reduced from

92 SAR

to
(including VAT)
About Rose Musk Shower Gel: Indulge in the luxurious scent of musk, flowers and fruits while giving your skin the ultimate cleansing and moisturizing experience with Rose Musk Shower Gel from our Deraah store. This shower gel effectively removes impurities and dust from your skin, leaving it feeling refreshed and moisturized. Purchase Rose Musk Shower Gel online and make your radiant and sensual beauty known to others!
Specifications of Rose Musk Shower Gel:
Top Notes: Cranberries, Cherry Blossom, Pepper Pink
Middle Notes: Jasmine, Ylang-Ylang
Base Notes: Musk, Sandalwood

Brand: La Beauté de l'Amour
Product Type: Shower Gel
Section: Body Care
Category: Women
Collection: Oriental
Scent: Floral - Fruity - Musky
Volume: 250 ml

Advantages of Rose Musk Shower Gel:
● Experience the rich blend of floral, musky and fruity notes that will leave your skin smelling heavenly.
● The dense foam of the shower gel ensures a deep and effective cleansing of the body.
● The non-greasy formula ensures that your skin is left feeling light and comfortable.
● The soothing fragrance of the shower gel helps to relax and calm your senses.
● The inclusion of glycerol helps to moisturize your skin, leaving it feeling soft and supple.
● Suitable for all skin types, this shower gel is perfect for anyone looking for a luxurious and effective cleansing experience.
● Allergen-free, so you can enjoy the benefits of this shower gel without any worries.

Clean and Refreshing:
Rose Musk Shower Gel helps to deeply cleanse your skin and leave it feeling refreshed and revitalized with its wonderful aroma.

Full-Body Pampering:
Treat your entire body to the luxurious cleansing and moisturizing benefits of Rose Musk Shower Gel from our armor store.

Relaxing Aromatherapy:
Unwind and relax with the soothing aroma of Rose Musk Shower Gel, perfect for helping you achieve a sense of calm and tranquility.

How to Use Rose Musk Shower Gel:
Whilst showering, apply the shower gel on to a loofah and distribute it accordingly all over your body. Rose Musk Shower Gel works to eliminate dirt and dead skin cells, leaving your body with a feeling of freshness and a fragrant scent.
Warnings and Precautions (optional):
To be applied externally only.